The "about Jim Gammill" page gives a standard short bio/resume about me. This is the page where I can share more of my story.
My candidacy, as an independent, is not a conventional one. By not running under either the Democratic or Republican "brand", I'm asking each voter in the district to evaluate me (and the other candidates) instead of the political parties, and cast your vote accordingly.
Those of you who already know me can make your choice with confidence. My campaign challenge is to introduce myself to everyone else, so you too can focus on the individual candidates and not the party affiliations.
This page tells my story. Thanks for taking the time to learn more about me.
Lives Lived and Lessons Learned
I've done many different things in my 58 years. I've learned lessons all along the way, and each has shaped who I am.
Early Political Experience
My first career was in politics, and I really value that experience. In 1975 I joined a small team supporting the campaign manager and chief advisor (Hamilton Jordan) to a former governor who became President (Jimmy Carter). You can only imagine how many new friends I had two years later when I had a White House office address and phone number.
In those four years I learned that there is no substitute for being clear and direct, and not to over promise or encourage by silence some misperceptions. The hardest work of government is telling your allies that they may not get what they want.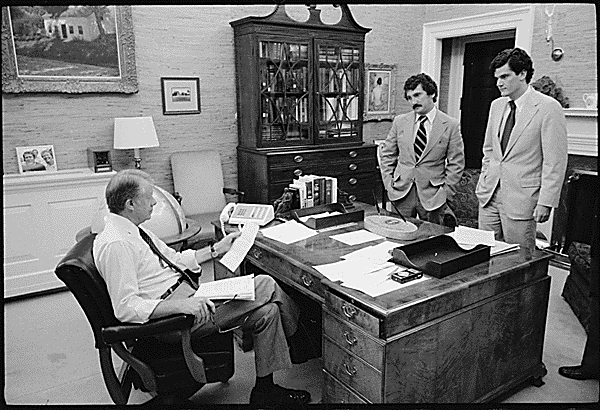 I wasn't in the President's private study more than a couple of times, and when I was, I had some explaining to do.
During my four years in the thick of political action, I met many, many people. Each one of these acquaintances or contacts has gone her or his own way since that time, usually winding up in unexpected places. It's fun to suddenly cross paths today with someone who was "just a kid" (like me) back then.
Lessons learned: Don't promise what you can't deliver. Make sure people hear what you say, not what they want to hear. And try to be nice to everyone, because you don't know when or where you'll see them again.
Trained as an Economist
My formal academic training took me to Harvard College and then, after my Washington stint, to the Sloan School at MIT where I received a Ph.D. in finance in 1985. I then taught finance at Harvard Business School and at the MIT Sloan School.
What I got out of that training was a respect for the power of a rigorous, consistent analytic approach, coupled with a willingness to see what really is in the available data -- and whether there is more data to examine.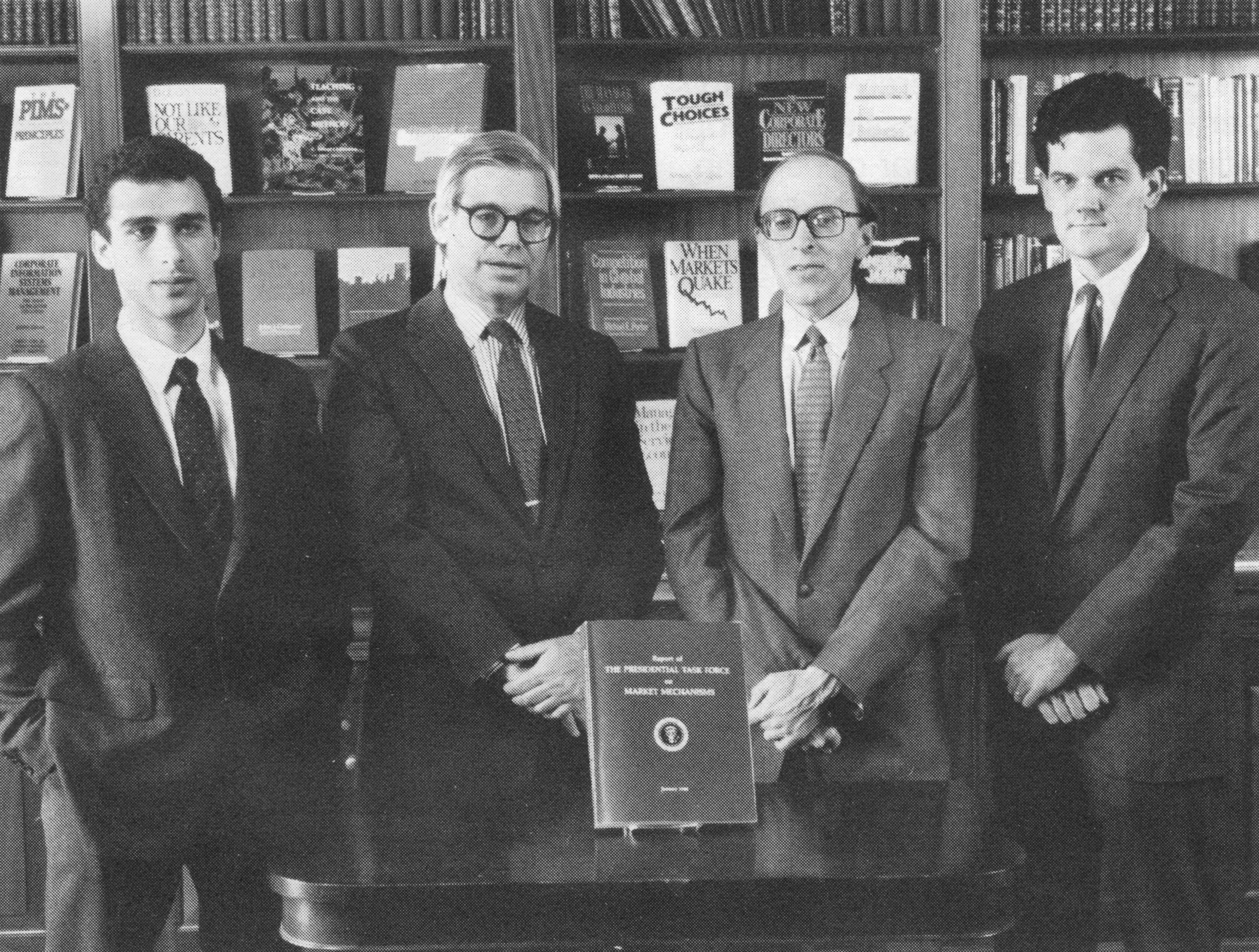 Here I'm with three other Harvard Business School faculty members. We investigated the 1987 stock market crash as staff members for President Reagan's task force headed by Nicholas Brady. On the left is Jeremy Stein, recently nominated by President Obama and confirmed by the Senate to the Federal Reserve Board of Governors.
As a financial economist I have respect and knowledge for what markets can do, and what they can't. As a regulator or policy maker, I know that the key problem with detailed legislation and regulation is that there is no level of detail that can anticipate the creativity of the market participants. Simple, robust rules that set standards and requirements at a high level are much more effective in the long run.
Lesson learned: Market-based approaches are important, and they have advantages over the available alternatives. The key to writing successful regulation is to think hard about how economically motivated actors will find the loopholes in the proposed rules (which will be there). Keep the law simple if you want to create fewer loopholes or fewer opportunities for special payoffs.
Spouse and Parent
I met Susan Alexander in Washington. We started dating in the summer of 1978, knowing she was going to start law school at Boston University in the fall. By October I had applied to MIT, given notice at the White House (to the surprise of many), and we were engaged by Christmas and married the following June. Thirty-three years and four children later, it's clearer than ever that leaving Washington at that moment was the best instinct I had.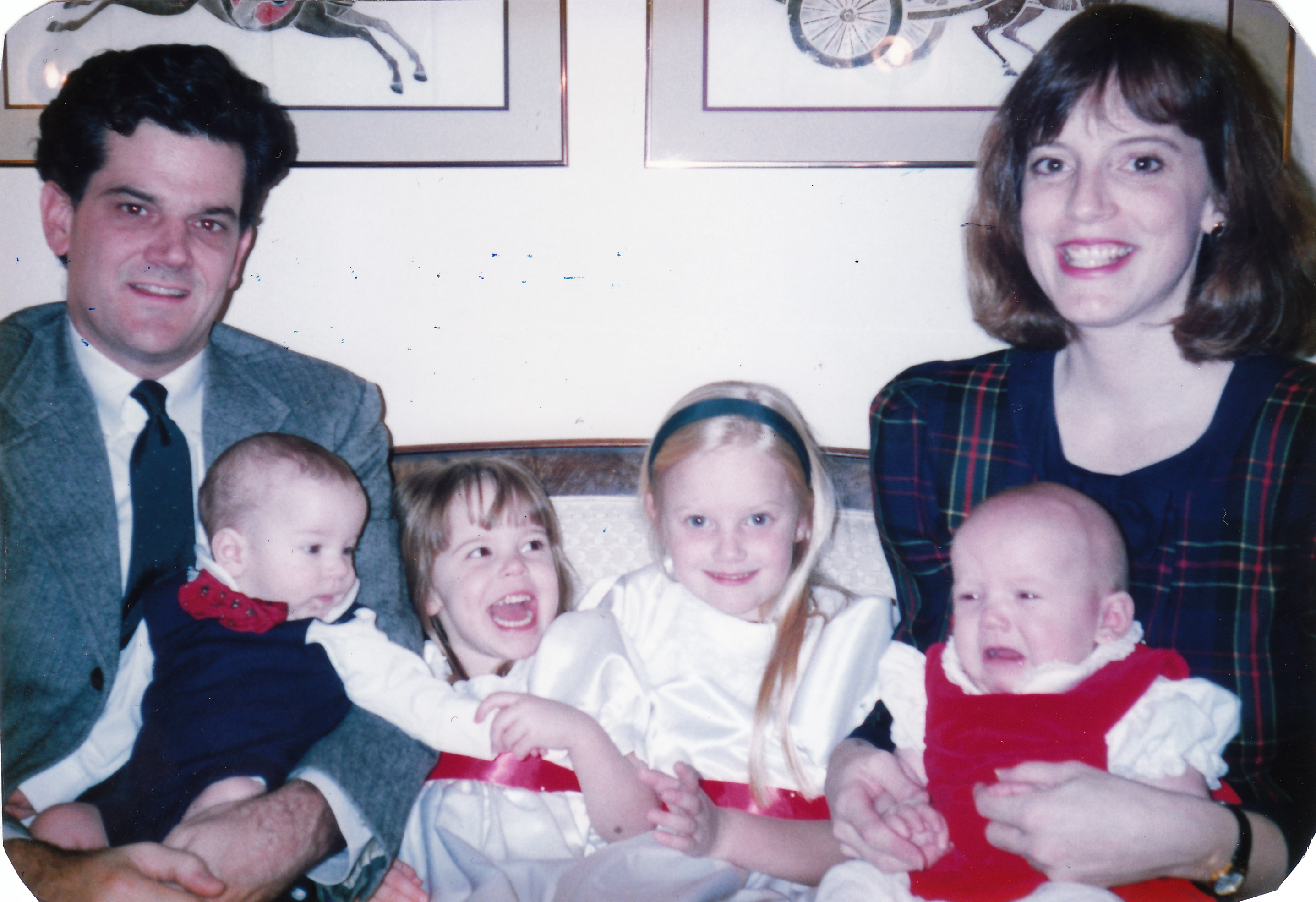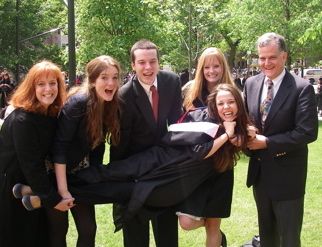 Four kids, five years old and younger, in 1990. Now they are all grown up, leaving me to find new ways (like running for State Rep) to keep some level of chaos in our lives.
Lesson learned: I am very lucky to have the love and support of my family.
Local Resident
Susan and I moved for good to Boston from DC in 1982. She worked downtown and I was in grad school at MIT, and we walked or took the T everywhere. Life changed in 1985 when we had our first child and I took a job at Harvard Business School while Susan continued to work full-time. We needed child care and we needed a car. As I remember, we bought a car and then I spent the next 10 months looking for parking spaces in the Back Bay. Susan was quicker to realize that it probably was time to move out of the city. I contend that we bought a driveway in Belmont, and there happened to be a house attached to it.
We've lived in the same house since 1986. It's close to Route 2 and I love the proximity to the 62, 76, 78, and 84 bus lines. We're also equi-distant between Belmont Center and Arlington Heights, and we're active shoppers in both locations. I also am a frequent user of the Minuteman Bikeway, a great recreational resource.
With young children, we quickly found all the playgrounds in the area. We frequently walked over to Arlington's Robbins Farm Park, and I broke my leg going down the metal slide with my one-year-old daughter. (It wasn't a bad break -- I didn't get it looked at until the next morning, since Game 2 of the 1986 World Series was on that night.)
Juggling Work, Family and Community
We were both working and had lots of family commitments during our first 20 years in Belmont. For three years in the mid-90s I commuted weekly to New York City, adding another level of juggling. We were involved in the kids' school and sports organizations, as well as other non-profit boards and positions.
It's been within the past few years, as our kids have become adults, that I've gotten involved in local government and politics: I volunteered in campaigns every election cycle since 2004, joined the Belmont Capital Endowment Committee in 2010, and this spring I was elected to town meeting for the first time. I continue to meet amazing people who are willing to give freely of their time to support the community in many different ways, while juggling their own competing needs and interests.
Lesson learned: For me, at this point in my life and the life of my family, it's time to step up and focus my attention here, on local community matters.
Faith-Based Organizer
It wasn't the result of a well-thought-out plan that got me deeply involved in the governance and operations of the Episcopal Diocese of Massachusetts. Instead, it was mostly curiosity.
About ten years ago I was wondering what it was like in other churches and religious groups. Laurie Slap and I stepped up to assume the leadership of a relatively inactive regional structure within the Episcopal Diocese of Massachusetts, covering the 16 congregations in Cambridge, Arlington, Belmont, and six other towns. We approached it as a grass-roots effort: visiting with each congregation, getting to know them, and identifying a project (an annual fundraising walk along the bike path) that everyone could work together on.
The more challenging work started when Bishop Tom Shaw asked me to be his chief of staff. In the fall of 2007 I suddenly found myself the senior staff person in an operation with 30 staff, an eight-million-dollar budget, and more than 175 congregations in the eastern part of the state, from Haverhill to New Bedford, from Nantucket to Pepperell, as constituents.
Like in many non-profit organizations, there were questions whether the diocese's commitments were exceeding its resources, and whether its mission had outgrown a dated organizational structure. During my 15 months as chief of staff I led a reorganization that refocused its mission while reducing costs slightly. During the next three years I stayed on as the volunteer treasurer, working with the governing board to expose its finances and budgeting process to greater public scrutiny and re-writing its assessment formula, all in the name of fairness and transparency.
All of this work had to be done with the participation and support of the governing convention, representing 175 diverse congregations serving many different communities and with many different approaches to worship. There was also, not surprisingly, considerable financial disparity among congregations, with some quite comfortably situated and others barely meeting their commitments on a month-to-month basis.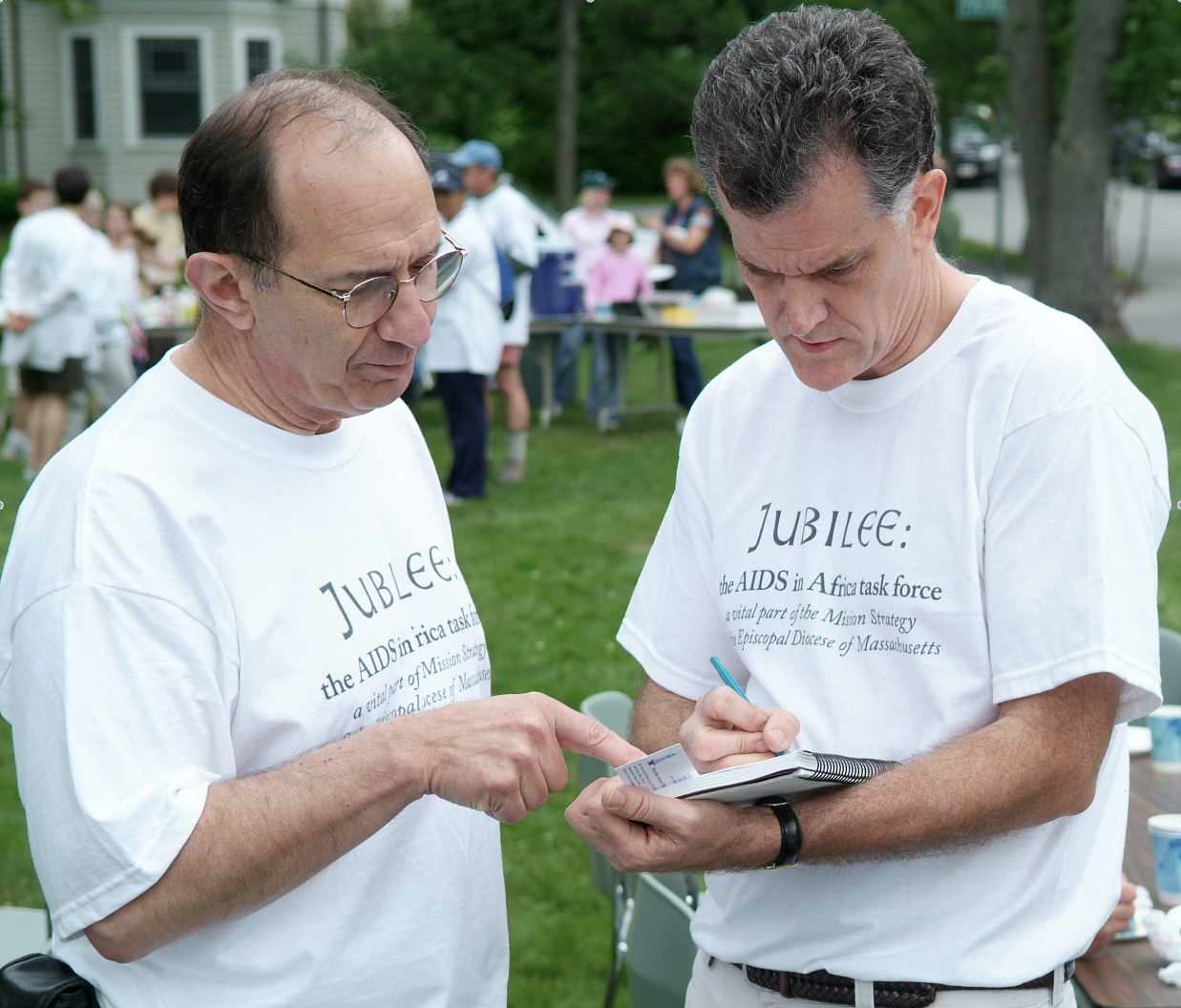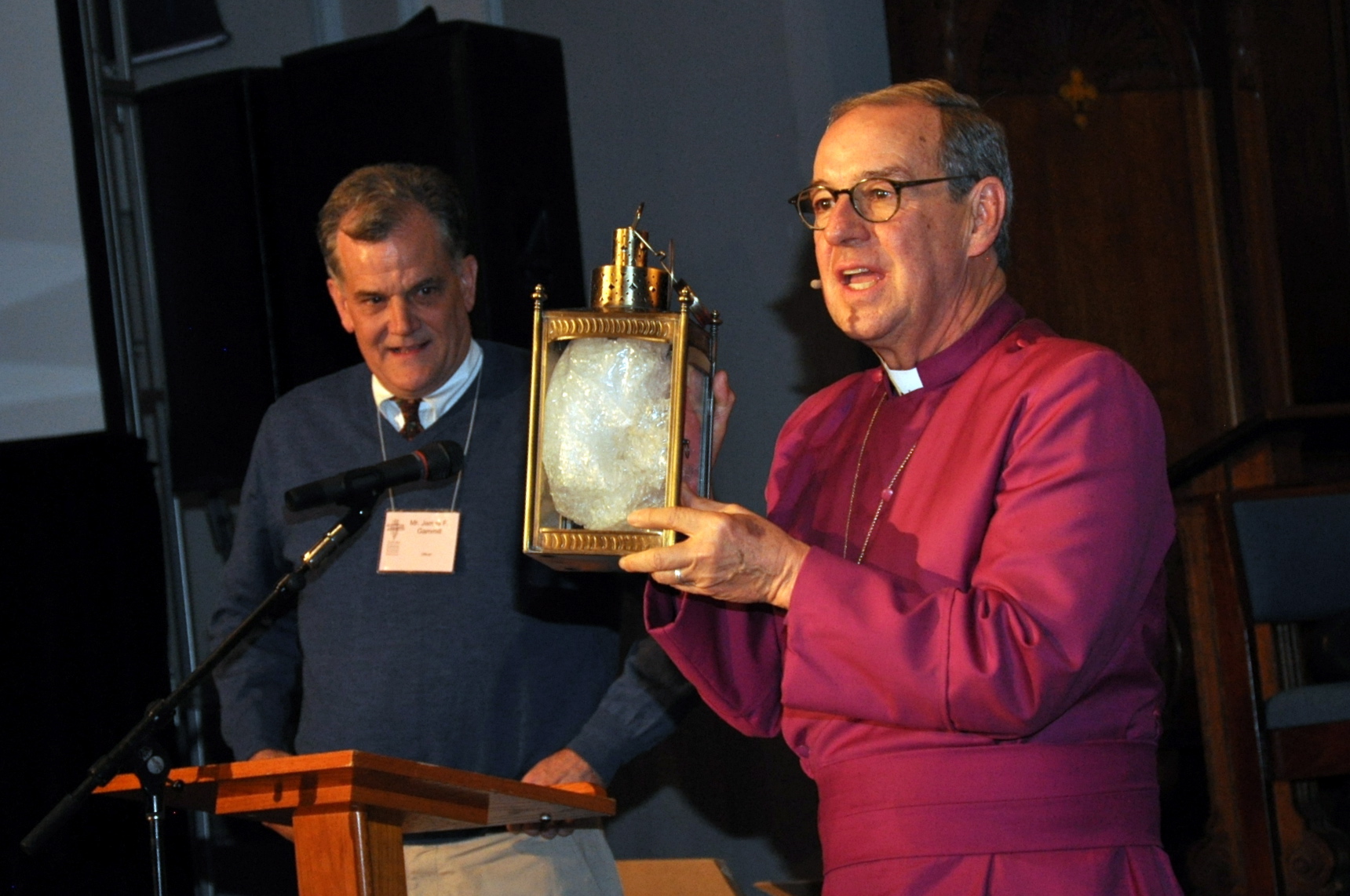 On the left I am working with Frank Fornaro, a former Boston public school principal and now an Episcopal priest, at the 2005 Jubilee Minuteman walk that raised $30,000 for AIDS in Africa programs. On the right, Bishop Tom Shaw is presenting me with a lantern from the Old North Church in appreciation for my leadership roles in the church.
While much of what I found from a management perspective was not that different from what I had encountered in business and government settings, there are some special things about working within a faith-based organization. In particular, there is a spirit and language around the idea of reconciliation that is not part of the normal fabric of the typical business organization.
Lessons learned: Practice reconciliation, and spend some time outside your home community getting to know the rest of the state.
Software Developer and Technology Enthusiast
I started programming in high school when punch cards and mainframes were the thing. It's impossible to overstate how the past 50 years of technology innovation have changed our lives, and it's been fun to try to stay current all through that time.
At the White House in 1978, the folks from Xerox PARC installed the same technology that would later inspire Steve Jobs, and I'd exchange electronic messages with the few other staffers willing to try it out. I got serious about software development in 1989 when I bought a NeXT machine and started writing software as part of my financial consulting work, and I've continued to write code ever since. Looking ahead, I will seek innovative ways to leverage myself at the State House through the smart use of technology.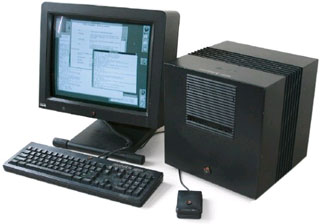 The 1989 NeXT cube -- mine is in the basement now. Back then, my wife called it the DeLorean of computers. NeXT is the company Steve Jobs started after getting kicked out of Apple; he brought the NeXT technology to rejuvenate Apple when he returned. Today's Apple products are directly linked to the NeXT operating system and its incredibly innovative development environment.
Lesson learned: Technology-driven innovations change the world much faster than our political and government processes can respond; avoid writing new laws that will be obsolete or worse within a few years.
Wall Street Quant
In late 1993 I met with a friend from the MIT doctoral program who had been working at Salomon Brothers for several years. He offered me a job, I accepted, and for three-and-a-half years I traveled back and forth and worked with the fixed income derivatives business as a quant analyst, creating models and writing software code to value and hedge derivatives. The derivatives world was much smaller then and the mortgage market itself was pretty tame (no subprime market to speak of), but the essential structure was not that different than what would be in place by 2008.
The main "product" of the derivatives market is risk-shifting, and for the major dealers of derivatives, the business plan is simple: have customers who willingly take risks on less favorable terms than the dealer would accept for its own account. The details are much more complicated and fascinating (e.g., how to use government quasi-backed institutions like Fannie Mae to shift risks around, and how to use complexity in payoff structures to make it harder to evaluate the risks). When the State Legislature takes up the issue of the Big Dig debt in 2013, my first hand knowledge of how Wall Street firms issue bonds and write derivatives contracts will come in handy.
Business Lesson Learned: Financial sector firms are not as special as they think they are; they operate in a competitive business, and if they mess up, there will be others willing to step in and take their place.
Personal Lesson Learned: I relied heavily on my personal relationship with the friend who hired me to protect me as I sought to do things "my way". When he left about a year later, I realized I had missed an opportunity to develop other sustaining relationships within the firm.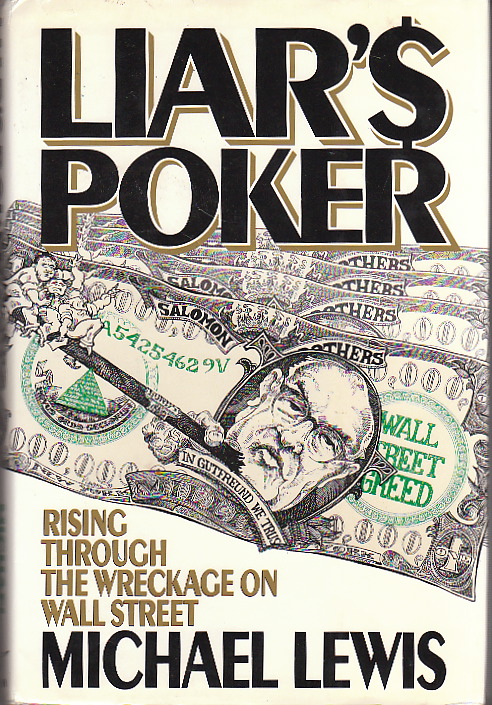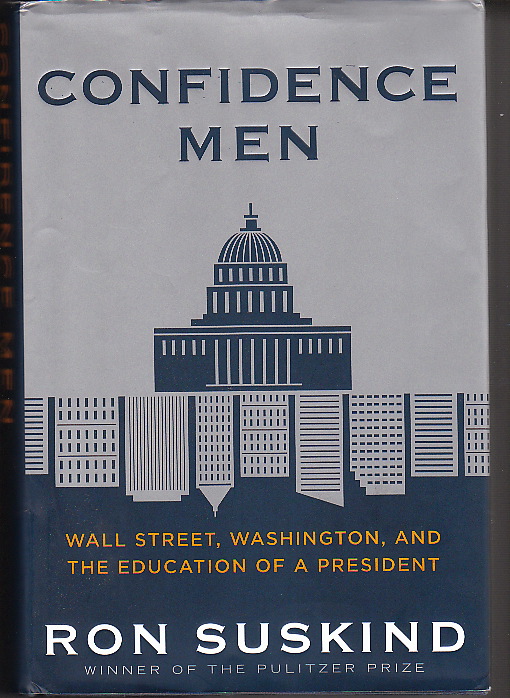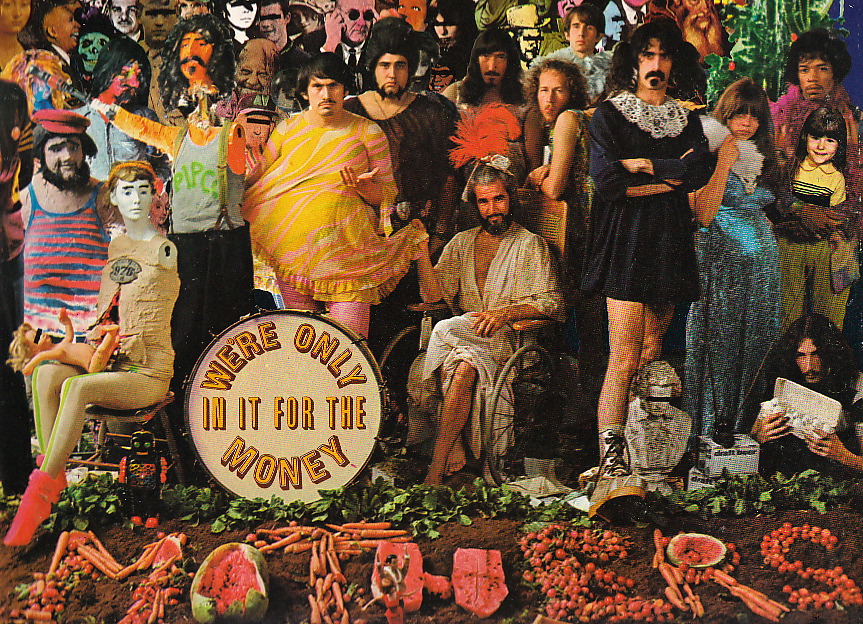 Three items from my library. The book Liar's Poker came out more than twenty years ago and it is still one of the best inside books about how Wall Street works. The book Confidence Men tells the story of the most recent financial meltdown, the bailout, and how Treasury Secretary Timothy Geitner (and others) derailed efforts within the Obama Administration to take more drastic measures to reconstruct the financial sector. The third item is here for fun -- it's the inside jacket of the 1968 Mothers of Invention album We're Only in It for the Money, the Frank Zappa parody of the Beatles' Sgt. Pepper album.
Angel Investor
For the past few years I have been a member of Launchpad Venture Group, one of the most active angel investment groups in New England. Once a month about 80 members of the group gather to hear pitches from three start-ups seeking early funding for their ventures. Members collaborate in digging deeper into the story of the start-ups that interest them, and in some cases, up to 25 or more members may ultimately choose to invest.
In my short time I have reviewed at least 30 different start-ups and invested in five of them. It's helped me see a broad swath of the entrepreneurial community here in Massachusetts and gain greater appreciation of how hard it is to build a successful business. Massachusetts enjoys a special position because of the synergistic relationships between our world class research institutions and the drive of our people to find commercial uses of this research. The "fun" part of investing in start-ups is well covered by the private sector here in Massachusetts, and new government programs in this area would not add much value.
Lesson learned: Stay humble as an investor and remember that most start-ups fail -- that fact itself should be viewed as a good thing, because it means we have a lot of passionate people willing to try something new here in Massachusetts.
Stutterer
Did I warn you this was going to be personal? I've had a stutter since I was a kid. While it bothered me when I was young, now I accept it, humorously, as part of who I am. (And yes, you may ask me about The King's Speech, although I'll suggest that you also watch A Fish Called Wanda.)
Summary: A True Independent
There is more to tell, and more time and opportunity throughout the campaign to do so. But this gives a good introduction to me, and shows that I will bring a lot of experience and different perspectives to the job of State Rep.
More importantly, I hope it gives you the sense that I will say what I think, seeking to challenge conventional thinking and the trap of "we've always done it that way", while remaining open to hearing new ideas and looking for solutions that can really work. A true independent, willing to work with everyone.